Title: Get Love!!!
Author/Artist: Go Ikeyamada
Language: Japanese
Volumes: 7
Rating: PG
Price: $35 all together
About: Yuki Sagara is a high school student who's shorter than all the other guys in his class. Miki Moriyama is the girl who admires him despite his small stature. Follow the hijinks and the romance between Sagara and Moriyama as they become closer and conquer the obstacles to their love! Was soccer mentioned?



Title: Meine Liebe (I love you)
Author/Artist: Rei Izawa + Yuki Kaori (character design)
Language: Japanese
Volumes: Volume 3 only
Rating: G
Price: $8
About: Erika Klause, who has been separated from her brother when she was little, decided to enter Rosenstolz Academy (in Germany), where she was sure to see him. But what she encounters at first day of school is the five Strahl (King scholars) candidates, and three new girl friends, as well as tons of rumour-mongering classmates. What could possibly go wrong at finding a long-lost brother in an exclusive school?



Title: Nana
Author/Artist: Ai Yazawa
Language: English (VIZ Shoujo)
Volumes: 1-4 and 6
Rating: M
Price: $10 each
About:Nana Komatsu is a young woman who's endured an unending string of boyfriend problems. Moving to Tokyo, she's hoping to take control of her life and put all those messy misadventures behind her. She's looking for love and she's hoping to find it in the big city.
Nana Osaki, on the other hand, is cool, confident and focused. She swaggers into town and proceeds to kick down the doors to Tokyo's underground punk scene. She's got a dream and won't give up until she becomes Japan's No. 1 rock'n'roll superstar.




Title: Wish
Author/Artist: CLAMP
Language: English (Tokyopop)
Volumes: Volume 1 only
Rating: G
Price: $4
About:One moonlit night Shuichiro saved an angel stuck in a tree. The angel granted him a wish to repay his generosity. Shuichiro said, "I need no wish, I can get what I want on my own." But they'd both soon learn that some wishes can't be fulfilled alone.



Title: Girl Got Game (Japanese- Power!!)
Author/Artist: Shizuku Seino
Language: English
Volumes: Volume 6 only
Rating: PG
Price: $4
About: Kyo Aizawa is very excited about getting to attend Seisyu Academy, which is famous for its adorable girls' uniforms. Her spirits are crushed, however, when she opens the package containing her school uniform to find a boy's uniform.
Her father explains to her that, as Seisyu Academy is also famous for its boys' basketball program, he enrolled her as a boy so she can fulfill his own dream of becoming an NBA basketball star. To make matters worse, she has to stay in the boys' dorms, and her roommate is the same boy she came to hate at tryouts.



Title: God Child- Count Cain Saga (Japanese- Hakushaku Cain)
Author/Artist: Yuki Kaori
Language: English (VIZ)
Volumes: Volume 1 only
Rating: M
Price: $10
About: Deep in the heart of 19th Century London, a young nobleman named Cain walks the shadowy cobblestone streets of the aristocratic society in which he was born. Forced to become an Earl upon the untimely death of his father, Cain assumes the role of head of the Hargreaves, a noble family with a dark past. With Riff, his faithful manservant, and Mary Weather, his 10-year-old half sister, Cain investigates the mysterious crimes that seem to follow him wherever he goes. (Really good! Sometimes follow Nursery rhymes as stories!)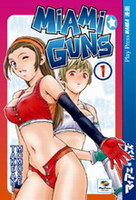 Title: Miami Guns
Author/Artist: Takeaki Momose
Language: Japanese
Volumes: 1-2
Rating: M
Price: $5 all together
About: takes place in Miami City, which is similar to Miami, Florida, except for several locale changes. It's mainly about the life of two female Miami City police officers having to stop crimes before they get worse.




Title: Lovenista
Author/Artist: KAYANO
Language: Japanese
Volumes: 1 volume only (out so far)
Rating: M
Price: $8
About: The very modern tale of a girl with a perchant for picking the wrong guys to fall for... and the bad boy who may just be good for her after all!



Title: Fushigi Yuugi (The Mysterious Play)
Author/Artist: Yuu Watase
Language: English (VIZ Originals)
Volumes: 1, 3-7 only
Price: $30 all together
About:Miaka Yuuki is an ordinary junior-high student who is suddenly whisked away into the world of a book, The Universe Of The Four Gods. There she becomes the priestess of the god Suzaku, and is charged with finding all seven of her Celestial-Warrior protectors.



Title: Magical Knights Rayearth (Japanese-Mahou Kishi Rayearth)
Author/Artist: CLAMP
Language: English
Volumes: 1-3 (volume 1's binding has come off so its free if you buy the other two)
Price: $10 all together
About:Magic Knight Rayearth follows Hikaru, Fuu and Umi along with their friendly sidekick, Mokona, on their quest to save the mystical planet of Cephiro.



Title: Ousama no Mimi ha Okonomimi (The king with the ears of Okonomimi)
Author/Artist: Kei Natsumi
Language: Japanese
Volumes: 2
Price: $8 for both
About: A boy who believes he has the ears to listen to Okonomiyaki! He is a young boy owning a Okonomiyaki shop in the middle of a rice paddy field who makes the best in all of Japan! He goes on many cooking adventures with his friends including a school trip to Tokyo which ends up in a big fight against him and another kid in a cook off! His little sister is embarrased by him but can she find love of her own? Will his best friend get that 'GAL' to his girlfriend by becoming a tanning blonde hair dude himself? Will someone listen to the Okonomiyaki? And will someone pay their bill? Find out in this whacking adventure!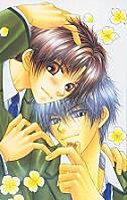 Title: Our Kingdom (Japanese- Bokura no Oukoku) Yaoi Label
Author/Artist: Naduki Koujima
Language: English
Volumes: Volume 4 Only
Price: $10
About:Upon the death of his grandmother, country boy Akira Nonaka is taken in by the immensely wealthy and powerful Takatou family. there, he is told that he is a candidate to become next heir to the Takatou name. However, there is another candidate--the princely, handsome Rei, who turns out to be a cousin of Akira's. Far from being competitive, Rei shows no interest in the prospect of inheritance, and instead takes an immediate liking to Akira. Rei's aggressive shows of affection muddle the naive country boy, until Akira begins to discover a budding attraction towards Rei within himself.

Title: Romancers
Author/Artist: Asami Yuuko (also known as Ohba Tsugumi of Death Note)
Language: Japanese
Volumes: Volume 1 only
Price: $20 (No longer in print in Japan or Worldwide)
About: Takara is a Romancer, a being that can make words come to life. In his case, he can make any "lie" a lie in real life. He uses his special talent to help people while searching for others like him, but when he saved his cop friend Wakisaka, his powers were strengthened and Takara's powers changed so he could use them when he is deeply moved.



Title: Trinity Blood
Author/Artist: Kiyo Kuujo and Sunao Yoshida (R.I.P.)
Language: English
Volumes: Volume 1 only (series stop at volume 10 due to Yoshida passing away)
Price: $4
About: The background is in the distant future after the destruction brought about by Armageddon. The war between the vampires and the humans continue to persist. In order to protect the humans from the vampires, Vatican has to rely on other allies to counter the situation. The protagonist, a priest called Peter Abel Nightroad, travels through the countries as a representative for the Vaticans. However, he is also part of "Ax", a special operations group controlled by the Cardinal Catherina. His encounter with a young girl called Esther will determine the struggle and survival between the human race and the vampires.



Title: Love and Tears
Author/Artist: Kaho Miyasaka, Kotomi Aoki, Iori Shigano, Kotobuki Atsuta, Tae Satori and Amami Harushiro
Language: Japanese
Volumes: Oneshot 6 Stories
Price: $8
About:Three popular manga artists whom Shogakukan is proud of in the area of girls' comics provide an amnibus of sentimental love stories.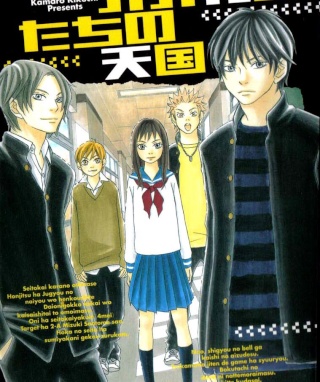 Title: Ookami-tachi no Tenkoku (The Paradise of Wolves)
Author/Artist: Kamaro Kikuchi
Language: Japanese
Volumes: Oneshot
Price: $5
About:"Be careful of the student council." Although she heard of that rumor, Mizuki who has just transferred starts a fight with a member of student council. Of course they started picking her, and they forced her to enter dangerous "Tagging Contest" that's sponsored by the student council...!? But why can't anyone help her---?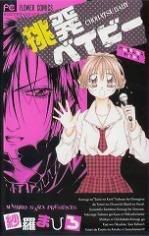 Title: Provocative Baby (Provocative Baby)
Author/Artist: Sara Mahiro
Language: Japanese
Volumes: Oneshot
Price: $5
About: Kobaku's beloved Tsubasa is the lead singer of a popular band. One day, Tsubasa suddenly found himself living alone, with Kobaku at his doorstep proclaiming to be his future wife! New experiences made Kobaku believe that this is what married life is supposed to be like! Tonight…is their wedding night! Kobaku, good luck~! In reality he is only using her so that fan girls will back off him.

Title: Tennen Mousou Shiyouchuu Kanajo wa Bouryokukei
Author/Artist: Sara Mahiro
Language: Japanese
Volumes: Oneshot
Price: $5
About: Boys teasing girls is all fun especially when you end up in strange situations with the boy you thought you hated. What if you and that guy somehow ended up sharing a room together and he saw you in your new underwear that you choose to wear with him in mind to show to. It's all just another cute romance with two people who don't look like they would suit each other.


DVDS


Title: Hanazakari no Kimitachi- For You in Full Blossom
Tagline:
Episodes: 12
Genre: High School Romance Comedy
Price: $35
Opening+Ending Songs: Ikenai Taiyo by ORANGE RANGE + Peach by Otsuka Ai
Cast: Horikita Maki, Oguri Shun, Ikuta Tohma, Shirota Yu, Hiro Mizushima.
About:Horikita plays the protagonist Ashiya Mizuki, a Japanese girl in the U.S. who one day sees the young athlete Sano Izumi (Oguri) compete in the high jump on television. She begins to idolize him, and decides to move to Japan to attend the same school as him. However, Izumi goes to an all-boys school, so Mizuki disguises herself as a boy to achieve her dream of being with her idol.



Title: Seito Shokun!- Attention Students!
Tagline: A teacher versus a trouble class and their leaders 3TD to earn their trust
Episodes: 10
Genre: High School Drama
Price: $35
Opening+Ending Songs: My Generation by YUI
Cast: Horikita Maki, Hongo Kanata, Okada Misaki, Shirota Yu and Uchiyama Rina
About: Students who do not trust teachers, teachers who give up faith in education, parents who blame schools for their children's misbehavior...
Naoko was at a loss when she was assigned as a new high school teacher. Times have changed and students are no longer easy to control, but she chose not to look away. Instead, Naoko reaches out to try and discover the various issues hidden in the modern education system



Title: Kurosagi- The Black Swindler
Tagline: A swindler who preys on swindlers and wins your money back!
Episodes: 11
Genre: Crime Investigation Romance
Price: $35
Opening+Ending Songs: Daite Senorita by Tomohisa Yamashita
Cast: Tomohisa Yamashita, Horikita Maki, Yui Ichikawa and Kato Koji.
About:Kurosaki, a young man whose family was destroyed by swindlers. Despite that, Kurosaki grows up to become a con artist known as Kurosagi. As Kurosagi, he swindles other con artists and returns the money to the original victim. He works with the master swindler Katsuragi Toshio even though Toshio had a hand in the destruction of Kurosaki's family.

Kurosaki's life begins to change when he meets Yoshikawa Tsurara, a young law student who disapproves of his disrespect of the law. Can she persuade Kurosaki to give up swindling and his quest for revenge?